Inflammatory Acne, Muscle and Joint Pain, Arthritis, Muscle and Tissue Tension, Muscle Spasm. In addition: Great results for Rosacea/Skin Pigmentation, Circulation, Anti-aging skin conditions, Collagen rebuilding
Celluma LED Biophotonic Therapy
Modern medicine addresses vitality by focusing on the symptoms or effects of aging, disease and trauma, compensating for less than optimal life choices, genetics and environmental conditions. The underlying cause of vitality loss is compromised cellular function and is often considered less important than a quick fix to the resulting undesirable effects. This approach to health and wellness has proven expensive, unpredictable, ineffective, inconvenient, unsustainable, and, in some cases limited by unpleasant side effects and safety concerns.
Central to the retention of vitality is proper cellular function. The human body is a remarkable machine, capable of sustaining and repairing itself. Unfortunately, this capability is interrupted by aging, as well as the stress, strain and behavioral choices of modern life. Re-regulating less than optimal cellular function is the first step to retaining and regaining vitality.
$35.00 for 30 minutes

$65.00 for 60 minutes

$20.00 add on to facial
The Celluma, is a low-level-light energy device based on NASA technology and FDA Cleared to treat many musculoskeletal and skin conditions. light energy is emitted from a flexible and shape-taking light array panel, absorbed at the surface of the skin to re-establish normal cellular health and function. Celluma's patented delivery system emits three specific wavelengths of modulated light controlled by proprietary software algorithms. The benefit of using three different wavelengths is that light absorbing molecules use the various wavelengths as a signaling mechanism for different cellular processes. For example the various wavelengths and the red, blue and infrared lights reduce inflammation, stimulate collagen production, and some kill bacteria, while others enhance localized circulation.
Patented, pulsed-wave technology controlled by proprietary software algorithms add to the applicability of the Celluma. It is a polychromatic device that delivers blue (465nm), red (640) and infrared (880) light energy simultaneously to safely treat a wide variety of conditions easily and affordably. Its unique flexible design and large light panel, facilitates effective energy absorption by tissue and molds closely to the body to treat a wide variety of ailments and skin conditions. Its flexibility affords previously considered "awkward" areas such as elbows, shoulders or ankles to be treated with ease. There are no known adverse effects to either practitioner or client/ patient. Compared to low-level light therapy delivered by certain lasers, there is no harmful thermal effect to tissue and no danger to the eye. This makes the Celluma a viable, safe, and affordable alternative to cold lasers which have similar indications for use. As a Class II Medical device the Celluma can be used to alternatively or adjunctively treat patients/clients and optimize outcomes. Based on scientific research pioneered by NASA, the Celluma is a specialized light energy device FDA Cleared to treat:
Inflammatory Acne, Muscle and Joint Pain, Arthritis, Muscle and Tissue Tension, Muscle Spasm.
In addition: Great results for Rosacea/Skin Pigmentation, Circulation, Anti-aging skin conditions, Collagen rebuilding.
CELLUMA Treats many health concerns such as:
mild to moderate inflammatory acne vulgaris

sub-optimal local blood flow & circulation

minor muscle & joint aches

minor muscle & joint pain relaxation of muscles

pain and stiffness associated with arthritis

minor arthritis or muscle spasm chronic neck & shoulder pain of a musculoskeletal origin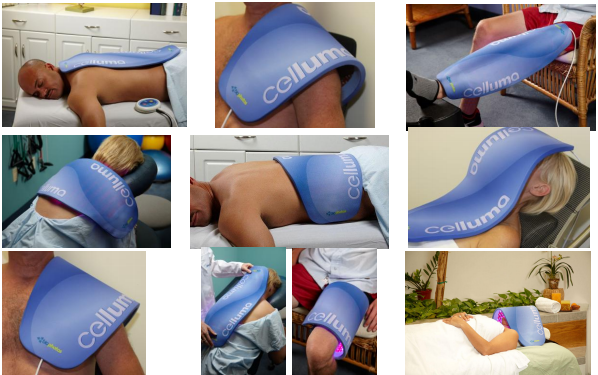 LED light therapy has been scientifically proven by over 300 clinical trials to re-regulate cellular function in the treatment of many common conditions, restoring the body's natural ability to heal itself. Contrasted to many widely accepted therapies where vital tissue is intentionally damaged to illicit a healing response in the affected area of the body, using LED light to "reenergize" cellular function in a non-invasive manner allows the body to maintain vitality as nature intended. "LED reacts with cytochromes in the body," explains Dr. Harry Whelan, professor of pediatric neurology and director of hyperbaric medicine at the Medical College of Wisconsin. "Cytochromes are the parts of cells that respond to light and color. When cytochromes are activated, their energy levels go up, and that stimulates tissue growth and regeneration."
30 minutes, $35.00

60 minutes, $65.00

Add on to Facial $20.00